HIT opens its 20/21 season
HIT opens its 20/21 season with an exciting double bill of riveting one-man full length plays,  plays fresh from successful runs in the UK and the US, presented for the first time in Denmark, in collaboration with Bøssehuset, Christiania. Now getting great reviews in the Danish press.
⭐⭐⭐⭐⭐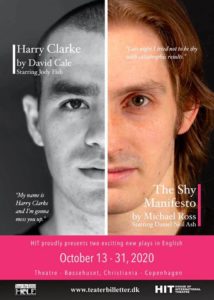 Don't miss HIT's new crop of young talent, American actor Jody Fish and British actor Daniel Neil Ash, both now based in Copenhagen. They will be performing on alternate nights from 13th – 31st October 2020 in two different pieces of brilliant contemporary theatre, exploring fragile identity and a quest for acceptance for who we really are:
Harry Clarke by David Cale
The Shy Manifesto by Michael Ross.
(MORE INFO:
http://www.houseofinternationaltheatre.dk/current-productions/)
________________________________
Harry Clarke
A thriller
by David Cale
A mesmerising one-man show from 2017, this is an 80 minute drama experience about sex, alter-egos and identity, and the dangers of attempting to lead an outrageous double life, in the style of hits such as Dr Jekyll And Mr Hyde or The Talented Mr. Ripley. A tour de force solo performance.
⭐⭐⭐⭐⭐
"Who knew being British, or even shy, could be so much fun?"
Actor Jodie Fish: "It's jaw-dropping how the same actor can look both unremarkable and devilishly sexy with a flick of the head. Oh, and he can sing too…Monologues can be a lonely business, but he filled the space effortlessly, deliberately sharing almost constant eye contact with the audience as he took them into his world. It was hard to look away."
(/Review: The CphPost Oct 16th 2020)
Premiere October 13th, 20:00
Performs the 15th, 21st, 23rd, 24th, 27th, & 29th October @ 20.00
17th and 31st October at 17.00
On stage: Jody Fish
Directed by Joseph Sherlock
TICKETS: https://www.teaterbilletter.dk/forestillinger/harry-clarke/

__________________________________
The Shy Manifesto
A tender black comedy
by Michael Ross

This is a tender, bittersweet coming-of-age dark comedy from 2019, about growing up shy and along with the pressures and double-edged sword of the age of social media. The final work of playwright Michael Ross who died in 2019 aged 40, this brilliant piece of theatre is as hilarious as it is touching. A one-man showstopper.
Premiere October 14th, 20.00
Performs the 16th, 17th, 20th, 22nd, 28th, 30th, & 31st at 20.00
24th October at 17.00
On stage: Daniel Neil Ash
Directed by Jeremy M. Thomas
TICKETS: https://www.teaterbilletter.dk/forestillinger/the-shy-manifesto-2/
⭐⭐⭐⭐⭐
Actor Daniel Ash:
"As Callum the protagonist, he could be revealing a great tenderness and then whoosh … the horrific character of his mother's friend Libby or Tyrone, the hitherto only gay in the village, would be brought into action seamlessly – and with no aftertaste of the previous occupant, not even a swallow. That's quite a skill."
(/Review: The CphPost Oct 16th 2020)
Both these powerful, revealing and compelling monologues are a tour de force for any actor. For HIT they are being performed in rep, also as part of HIT's season focusing this year on LGBTQ+ oriented plays, leading up to HIT's participation with dramatic works on stage during Worldpride 2021, which in 2021 will be held in Copenhagen.
____________________________________________________________________
COVID 19
Performances will be held with the utmost concern for health and safety, following all current Danish state guidelines. The use of face masks by the audience is encouraged. Hand sanitizers will be provided. Audience is limited in size to 30 seats.
______________________________________________________________________
House of International Theatre (HIT) is an extended platform for international theatre in Denmark. Founded in 2017, HIT has created performances over the last 4 seasons in Copenhagen, Malmö and Hamburg, delighted audiences and met with strong critical acclaim. We perform primarily in English, creating theatre we believe is unique, daring and engaging.
HIT is curated by Local Artistic Director Jeremy Thomas-Poulsen (Down the Rabbit Hole) and International Artistic Director Jana Pulkrabek (Manusarts).
___________________________
HIT is grateful for the support received in Copenhagen for our work over the last 3 years from:
Statens Kunstfond
A. P. Møller Foundation
Nordic Culture Foundation
Consul Jorck Foundation
Nordea Fund
Oticon Fund
Slots- og Kulturstyrelsen
Municipality of Copenhagen
Hamburg Ministry of Culture
American Embassy
British Embassy
German Embassy
Hungarian Embassy
Czech Embassy
_______________________________
(Photo credits above: From left to right: Christina Hildebrandt,  Jens Blegaa, scene shot "The Clean House"(Photos @Filip Orestes), Vanessa Poole (Photo@Diego Monsiváis), Jens Blegaa & Tina Robinson, Dina Rosenmeier, Isabel Escudero Zorde (Photos@Filip Orestes)