By Harold Pinter
29 Jan – 2 Feb 2020
 "There are things I remember which may never have happened, but as I recall them, so they take place."
/Anna.
The human perception of memory, of where reality ends and fantasy begins, is explored in one of Nobel Laureate Harold Pinter's most famous plays.
In this unsettling drama, married couple Kate and Deeley receive a visitor from Kate's past and what begins as a playful game of light reminiscing over the exciting days of their youth, twists and turns as the recollections differ.
What are the consequences when love and lust turn to brutal jealousy? Who actually had sex with whom, or who will?
As this triangle battles to make the truth of the narrative theirs, who will ultimately win?
A steamy re-interpretation of a classic love triangle, with an exciting international cast:
With: Jana Pulkrabek, Dina Rosenmeier, Andreas Lyon
A conflict-charged erotic play, with its intangible elements of the metaphysical, one of the masterpieces by the master playwright himself, Harold Pinter.
TICKETS: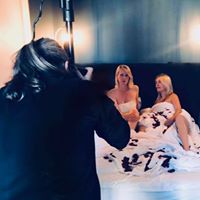 Cast: Jana Pulkrabek, Dina Rosenmeier, Andreas Lyon
Director: Jeremy Thomas-Poulsen
Playwright: Harold Pinter
Produced by: HIT
Co-producer: Down the Rabbit Hole Theatre
Length: 2 hours
Recommended from ages  15 and up
Performance is in English
Venue:
Krudttønden
Serridslevvej 2
2100 KBH Ø
(Photos: Filip Orestes)