Delia Trice's International showcase
VISUAL BLUFF
SMIL BELINDA
INTERNATIONAL WORKSHOP
is postponed till June 2020.
Health and safety come first! Stay well and stay tuned and we hope to see you back in the theatre as soon as possible ❤️
____________________________________________________________________
visual bluff
A guest production from Italy
hosted by HIT
june 2020
A mixture of performance, video, audience interaction, theatre games and entertainment.

Welcome to a fun night and a theatre installation performance piece.
A large bowl of popcorn in the greedy hands of one of the three protagonists introduces a show, in which theatre roles mingle, subvert and blur.
This is a performance by three skillful actors, from a theatre company based in Italy. The show is built on the interaction between the ensemble of actors and the audience, who we assure you, will be delighted and willingly dragged into playing a theatre game, in a meeting of intelligent minds!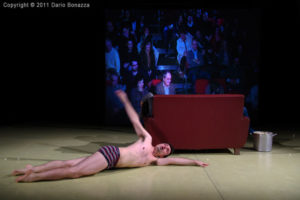 There will be video projection, dance moves, surprise games for those attending. Be prepared to be surprised and keep an open mind.
The mechanism starts from a format and then opens up to every possible development, based on the physiognomy of the public itself.
This is a show that, in spite of the title, is anything but a bluff. It is indeed entertaining, interesting and a sparkling exhibition.
Is it a comedy, a tragedy? Will a clown embarrass me in front of my friends? We won't tell you in advance. Except for the clown, there is no clown. Come and find out… you won't be disappointed …
Cast: Delia Trice, Hendry Proni, Beatrice Cevolani
Based on an original idea by Panda Project
Dramatist/ author: Panda Project
Hosted by HIT
Panda Project's presence in Denmark is kindly supported by:
Italian Institute of Culture of Copenhagen
Assessorato al Turismo del Comune di Ravenna.