Direction that brings it all to life "Inhabiting the same stage and making use of the same bed, the monologues' respective directors Joseph Sherlock and Jeremy Thomas-Poulsen both deserve credit for helping their charges to deliver close to three hours of pulsating intensity. The action never lets up and the times whizzes by."
(/Review: The Cph Post)
Harry Clarke
⭐⭐⭐⭐⭐
13 – 31 October 2020
A thriller
by David Cale

TICKETS: https://www.teaterbilletter.dk/forestillinger/harry-clarke/
"I'm Harry Clarke, and I'm gonna mess you up."
A mesmerising one-man show from 2017, and a huge hit in New York, Harry Clarke is an 80 minute drama experience about sex, alter-egos and identity, and the dangers of attempting to lead an outrageous double life, in the style of such appealing hits as Dr Jekyll and Mr Hyde or The Talented Mr. Ripley.
"Who knew being British, or even shy, could be so much fun?"
Actor Jodie Fish:
"It's jaw-dropping how the same actor can look both unremarkable and devilishly sexy with a flick of the head. Oh, and he can sing too…Monologues can be a lonely business, but he filled the space effortlessly, deliberately sharing almost constant eye contact with the audience as he took them into his world. It was hard to look away."
(/Review: The Cph Post, 16th October 2020, by Ben Hamilton)

The plot
This sexual, biographical thriller follows young American barista Harry – or is it Philip? –  who escapes to the bright lights of  New York from the American Midwest, and re-invents himself using an alter-ego as an Englishman,  accent and all.
We follow breathlessly Harry's attempts to re-invent in this way his own (real?) timid self , to escape a cruel, abusive childhood, a now dead, alcoholic, homophobic father and overwhelmed dying mother. We watch Harry con his way into a series of amorous adventures with New York high society, all in the hands of just one actor in a theatre, playing 19 personalities, in a masterful range of accents and flashbacks. This is a play that has the audience believing what was never really there and praying despite the fear, that  you can be whoever you want to be.
About the playwright
Playwright David Cale is a British/American writer and actor, active in New York, who has admitted his writing has been shaped by the horrific experiences of crime experienced by his own family in his teenage years in Britain.  Not surprising that Harry Clarke is a tale about a misunderstood boy who flees an abusive childhood and remakes himself in Manhattan.
On stage: Jody Fish
Directed by Joseph Sherlock
TICKETS: https://www.teaterbilletter.dk/forestillinger/harry-clarke/
Premiere October 13th, 20:00
Jody Fish performs in Harry Clarke on the 15th, 21st, 23rd, 24th, 27th, & 29th October at 20.00 hrs
17th and 31st October at 17.00 hrs.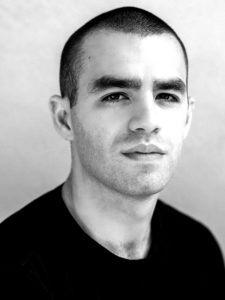 American actor Jody Fish (playing Harry Clarke) performed in summer stock theatres alongside numerous Broadway actors while growing up in Cape Cod, Massachusetts. He has recently made his return to the stage for HIT's Pride Monologues. He is also gaining momentum in the film industry, having been cast in several short films, commercials, and voiceovers. Jody is educated in both the US and Europe, and has a degree in linguistics with a specialisation in accent research.
Joseph Sherlock (directing Harry Clarke) is a British theatre director and actor based in Copenhagen. He has produced original, contemporary and Shakespearean plays in England, Australia, China and now Denmark and Sweden. Most recently Joseph collaborated on House of International Theatre's Pride Monologues as a part of CPH Pride 2020 and is currently directing the comedy Sylvia in Malmö, Sweden, for Playmate Theatre Malmö.
______________________________________
The Shy Manifesto
⭐⭐⭐⭐⭐
14 – 31 October 2020

A tender black comedy
by Michael Ross
TICKETS: https://www.teaterbilletter.dk/forestillinger/the-shy-manifesto-2/
"Last night I tried not to be shy, just as an experiment for one night – and with catastrophic results."
The plot
The Shy Manifesto is a tender, bittersweet coming-of-age dark comedy  from 2019, about growing up shy and along with the pressures and double-edged sword of the social media age. 17-year old bookworm Harry, stuck in  Bournemouth, is surrounded in life by overconfident people. He has pretty much only his own room for company and decides to face his own demons after the utter chaos of his drunken escapades last night.
This play is as hilarious as it is poignant. Through the digital universe of his vlog, Callum delivers a potent manifesto, which reveals his intimate thoughts about sexuality, society, humiliation, self loathing and ultimately his quest for acceptance.
Shyness has rarely been explored in drama and in this piece, peppered equally by hilarious and poignant moments, "the writing is a gift to actors: light and energetic, lacking in pretension and full of compassion."(The Guardian).
This piece of theatre coaxes trust from the audience and explores whether shyness should be accepted or whether it is something that needs to be conquered.
Actor Daniel Ash:
"As Callum the protagonist, he could be revealing a great tenderness and then whoosh … the horrific character of his mother's friend Libby or Tyrone, the hitherto only gay in the village, would be brought into action seamlessly – and with no aftertaste of the previous occupant, not even a swallow. That's quite a skill."
(/Review: The Cph Post, 16th October 2020, by Ben Hamilton)

About the playwright
The Shy Manifesto is the final work by British playwright Michael Ross, who died aged 40 in 2019. It has toured successfully all over Britain to critical acclaim and is now playing for the first time in Denmark. Michael Ross was a graduate of the Royal Court's Young Writers Programme and in his plays tackled contemporary issues such as social media, housing, homelessness and corporate greed.
On stage: Daniel Neil Ash
Directed by Jeremy M. Thomas
TICKETS: https://www.teaterbilletter.dk/forestillinger/the-shy-manifesto-2/
Premiere October 14th, 20.00
Daniel Neil Ash performs in The Shy Manifesto on the 16th, 17th, 20th, 22nd, 28th, 30th, & 31st October at 20.00 hrs
24th October at 17.00 hrs.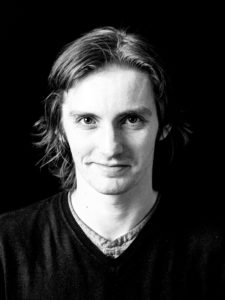 British actor Daniel Neil Ash (starring in The Shy Manifesto)  from Hull, East Yorkshire, trained on the foundation Course in Acting at the Oxford School of Drama before acquiring credits in several short films, touring theatre and working extensively in Theatre in Education. In 2016 he left The UK to train at the Copenhagen International School of Performing Arts (CISPA) and is currently based in Copenhagen.
www.danielneilash.wixsite.com/portfolio
Jeremy M. Thomas (directing The Shy Manifesto) is the Artistic Director of Down the Rabbit Hole Theatre. He recently directed in Copenhagen The Clean House, Sex and Betrayal; Slapstick Sherlock; No Exit-Reloaded; Lovers, Authors and Other Strangers; Venus in Fur, and Elsie and Norm's 'Macbeth'. He is also Co-Artistic Director of Teater Ord/Blindt, where he recently directed A Patriot's Guide to America and Drømmens Faner.  www.jmthomaspoulsen@gmail.com
_________________________________________________________________

Both plays Harry Clarke and The Shy Manifesto are being performed in English and in repertory throughout the week, with a double-header showing on Saturdays.
VENUE
Bøssehuset at Christiania
Mælkevejen 69D
1432 København K, Denmark
TICKETS at the door:
Ticket price kr. 165
Student over 25 kr. 125
Mit Teater kr. 125
Youth under 25 kr. 95
Groups of 10 or more kr. 125
Groups of at least 6 youths under 25 kr. 70
Performance dates Harry Clarke:
TICKETS:
www.teaterbilletter.dk/forestillinger/harry-clarke/
Premiere October 13th, at 20:00 hrs
Performs the 15th, 21st, 23rd, 24th, 27th, & 29th at 20:00 hrs
17th and 31st at 17.00 hrs
Performance dates The Shy Manifesto:
TICKETS:
www.teaterbilletter.dk/forestillinger/the-shy-manifesto-2/
Premiere October 14th, at 20:00 hrs
Performs the 16th, 17th, 20th, 22nd, 28th, 30th, & 31st at 20:00 hrs
24th at 17.00 hrs
To reserve press tickets for the opening performances on October 13th and 14th please contact Jeremy M. Thomas jmthomaspoulsen@gmail.com
Both these powerful, revealing and compelling monologues are a tour de force for any actor, and are being performed in rep. They are part of HIT's season focusing this year on LGBTQ+ oriented plays, leading up to HIT's participation with dramatic works on stage during Worldpride 2021, which in 2021 will be held in Copenhagen.
Read a full review here.

_______________________________________________________________________
COVID 19
Performances will be held with the utmost concern for health and safety, following all current Danish state guidelines. The use of face masks by the audience is encouraged. Hand sanitizers will be provided. Audience is limited in size to 30 seats.
______________________________________________________________________