HIT Lab is a theatrical workout room – an Actors Studio if you like –  for cross-cultural inspiration and the creation of new work.  HIT Lab is a rigorous working environment designed to connect Danish and foreign artists within an ongoing disciplined structure.
Due to popular demand HIT LAB will be offering intensive theatre training this summer, in July.
From Script to Stage
8 sessions over  one month –  intensive course for July 2020, presented by Jessica O'Hara Baker and Joseph Sherlock of HIT Lab.
Tuesdays and Thursdays
19:00-22:00
7th to the 30th of July
Public performance on Friday 31st  July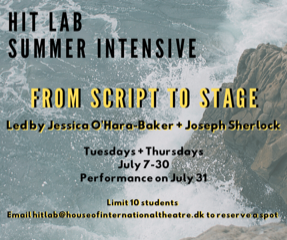 From Script to Stage is a professional development course for actors. Over 8 sessions of 3 hours each we will prepare a play for performance, while taking a deep dive into the techniques and processes which are usually taken for granted in a professional production.
We will:
    Work through the first table read of a script and walk you through the actor's foundational work at the beginning of a process.
    Explore how to get into your own body and how to consciously use your physicality and voice develop your character.
    Practice getting a scene "on its feet" and the different techniques that you can employ to make this productive.
    Develop the skills and mindset to get through those times when a rehearsal process can stagnate, including memorisation techniques, creativity exercises, and how to be a good collaborator with your director and cast.
    Look at how getting off book can be energising rather than frightening, and how you can take notes constructively.
    Examine different schools of thought about performance technique (Meisner, Stanislavsky, etc.) and how you can use them as tools to improve the production.
    Focus on committing to choices so that the show will be cohesive and stable.
    Polish the production, collaboratively and with the leadership of a director.
The course is appropriate for people early in their careers and serious students who want the space to continue to develop their skills. It will be limited to 10 students.
Venue:
Teater Hund
Østerbrogade 95
Dates:
19:00-22:00
Tuesdays and Thursdays
7th to the 30th of July
Public performance on Friday 31st July
Payment:
1300dkk
To reserve a spot, email hitlab@houseofinternationaltheatre.dk
____________________________________________
ABOUT THE HIT LAB LEADERS:
Jessica O'Hara-Baker
Jessica O'Hara-Baker is a New York and Copenhagen-based theatre and filmmaker who works as a performer, director and producer in both mediums. She has a love for new works in development, and has worked on new pieces at Second Stage, Playwrights Horizon Downtown, EST, The Lark, Signature, Drama League, Primary Stages, LAByrinth, Cherry Lane, and Prospect Theater, among others. She is an NYU Tisch graduate and a member of Actor's Equity. jessicaoharabaker.com
Joseph Sherlock
Joseph Sherlock is an actor, director, writer and teacher now working in Copenhagen. He has taught and produced theatre and performing arts in England, The Czech Republic, China and Australia. He is currently working with The House of International Theatre ,  The CTC in Copenhagen and Playmate Theatre in Malmo.
About HIT Lab
HIT Lab assembles actors, directors, designers, writers and other theatre makers under one roof, streamlining a process of collaboration and creation. Purposefully drawing together professionals with diverse training and backgrounds, we challenge each participant to expand their own capabilities while directly extending their network beyond national borders.
Based on a combination of Danish artists, foreign artists resident in Denmark, and international artists invited to Denmark, each Lab fosters creative ingenuity in a disciplined, action-oriented environment. The result is new work, new understanding, and new theatrical partnerships.
____________________________________________________________
How HIT LAB began
Through the autumn of 2017, House of International Theatre ran a pilot project in this HIT Lab structure, bringing together artists from Finland, Stockholm, France, Italy, New York, Berlin, the UK and Argentina, paired up alongside local theatre makers in Copenhagen. Daily work was shown in multiple languages each time, a range of international performances were presented to local audiences, and three distinct productions have already been given their premiere based upon the contacts made at HIT Lab.
Building upon the success of this format, HIT has now launched an ongoing project. Having investigated the mechanics of storytelling, theatrical space and poetry during its three pilot sessions, HIT Lab's collective theme for investigation will continue to shift with each iteration, with artists challenging one another to evolve through determined exploration of the theatre's fundamental elements.
In this way, HIT Lab recomposes itself hopefully every year, adding a fresh wave of participants and ideas.
Whether Danish or foreigner, this environment is aimed at you. HIT Lab is a structured space of collective creation, honing skills and pushing limits by bringing a whole world of experience into one room.
BE PART OF HIT LAB
Participation in HIT Lab is continually open for interested theatre professionals to apply to, depending on when workshops are held, session-by-session.
Application for each intensive workshop is announced here on the HIT website and via HIT's social media.
HIT Lab Spring 2020 is possible partly due to the support of KFTS, Copenhagen's Film & Theatre School. Thank you KFTS.
HIT Lab is partly funded by Nordea Fonden.
(Photo credits above from HIT productions "Party Time" and from "Vanya and Sonya and Masha and Spike" Photos@Filip Orestes)