HIT PRESS REVIEWS:
The Clean House
By Sarah Ruhl
Directed by Jeremy Thomas-Poulsen
2019

⭐⭐⭐⭐⭐ Cph Post
⭐⭐⭐⭐ Kulturtid
⭐⭐⭐⭐CphCulture
⭐⭐⭐⭐ Pov. International
⭐⭐⭐⭐ The International Denmark Magazine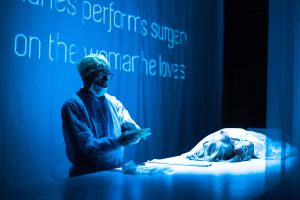 "…hilarious and dramatic all rolled up into one sensational play with professional and humorous actors! What a win to find theatre in English – great for our Internationals…. not to be missed and a definite thumbs up from The International!"
(The International Denmark Magazine 2019)
"HIT does it again! English theatre in the heart of Copenhagen. Brilliant performance of Sarah Ruhl's The Clean House".
( Danish Life Magazine 2019)
" Jeremy Thomas-Poulsens betydelige evner som personinstruktør kommer her til sin ret, og ensemblespillet går på fineste vis op i en højere enhed til slut." (CphCulture 2019)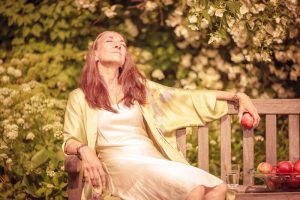 "Sarah Ruhl's 'The Clean House' – a play superbly directed by Jeremy Thomas-Poulsen… A touching play resonates with us all… because it is highly relatable to internationals… To say it is the funniest play I have ever seen in Copenhagen is no exaggeration. Ensembles don't come along like this very often…Masterclass in direction…"
(Cph Post 2019)
http://cphpost.dk/activities/performance-review-laughing-at-our-expat-lives-really-is-the-best-medicine.html
Last Tango in Little Grimley  ⭐⭐⭐⭐⭐
Directed by Jeremy Thomas-Poulsen
2019 (A guest production)
"this was a seamless performance – quite literally as all manner of silky, sexy and slinky garments were adorned and ripped off in full view… it's frenetic sex farce meets French cabaret meets fast forward on your VHS – a highlights reel of their night in tights in front of the lights, full of unexpected appearances" ( Review: CphPost Nov 2019)
"LAST TANGO IN LITTLE GRIMLEY må være årets sjoveste engelsksprogede produktion i København og endnu en sejr for de gæve folk bag Down The Rabbit Hole og House of International Theatre." (CphCulture 2019)
http://www.cphculture.dk/c408lasttangoinlittlegrimley.html
The Urban Hunt ⭐⭐⭐⭐⭐
A devised monologue piece performed by Malte Frid-Nielsen
Directed by Jeremy Thomas-Poulsen
2018

"Every single sound and every single movement felt magnified, gripping our full attention… a Magical mystery tour… with laughter and soul-searching…highly interactive nature of the play, and also the seamless transitions … an evening of laughter and soul-searching. Immersing the audience in a magical world."
(CphPost 2018)
Vanya and Sonya and Masha and Spike ⭐⭐⭐⭐⭐
by Christopher Durang
Directed by Jeremy Thomas-Poulsen
2018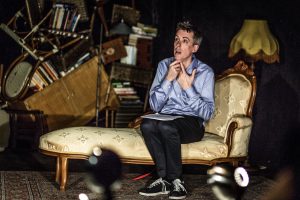 "…refreshingly modern, neither puritanically passé nor fantastically futuristic, with contemporary content relevant to everyone…this is principally the story of Vanya, Sonia and Masha, and all three are brilliantly cast… another masterclass by director Jeremy Thomas-Poulsen. An ingenious set …a superb ensemble piece."
(Cph Post 2018)
KOP Kultur giver Vanya and Sonia and Masha and Spike ★★★★ (4 stjerner) February 28, 2018
Cph Post gives Vanya and Sonia and Masha and Spike ★★★★★ (5 stars) February 26, 2018
Cph Culture giver Vanya and Sonia and Masha and Spike ★★★★ (4 stjerner) February 26, 2018
Kulturtid giver Vanya and Sonia and Masha and Spike ★★★★ (4 stjerner) February 26, 2018
Xq28 giver Vanya and Sonia and Masha and Spike ★★★★ (4 stjerner) February 23, 2018
Sex and Betrayal ⭐⭐⭐⭐
A devised piece
Directed by Jeremy Thomas-Poulsen
2017/18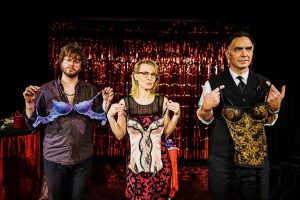 "…it this kind of determination that has helped … Hamburg-based theatre group Manusarts make such a mark in Copenhagen. Pulkrabek has a strong ally in the shape of Jeremy Thomas-Poulsen, a co-founder of HIT's resident group Down the Rabbit Hole and her director in this play. Once again, he demonstrates his prowess both as a helmsman and weaver of content, presenting an intriguing sequence of scenes that will leave you on the edge of your seat and no doubt stir your libido somewhat."
(Cph Post 2018)
Cph Post gives Sex and Betrayal ★★★★ (4 stars) January 23, 2018
Ørkendrømmen anmelder Sex and Betrayal January 20, 2018
Flirt med Livet blog anmelder Sex and Betrayal January 20, 2018
Slapstick Sherlock ⭐⭐⭐⭐
A devised piece
Directed by Jeremy Thomas-Poulsen
2017
KOP Kultur giver Slapstick Sherlock (4 stjerner) December 3, 2017
Cph Culture giver Slapstick Sherlock ★★★★ (4 stjerner) Dec3 2017
"Det er en grad mere subtilt, end vi er vant til fra Crazy Christmas Cabaret, der har forfinet sprognuancerne i 35 år. Men morsomt er det. Og instruktøren Jeremy Thomas-Poulsen har ikke sparet på de gakkede indslag, når den engelske julehumorhygge spreder sig i salen.
Hør hov! Jeg tænker lige højt. Næste år kommer vi til at mangle den engelske Christmas crazyness… Hint. Hint. Nudge. Nudge. Det kan de gode folk på HIT godt tænke lidt over. "
(CopCulture 2017)
A Patriot's Guide to America ⭐⭐⭐⭐
A devised, collaborative ensemble piece Directed by Jeremy Thomas-Poulsen 2017
"From impassioned poetry reading to singing and sword-fighting Civil War re-enactments, 'A Patriot's Guide to America' highlights many juicy and contested elements in American history. Stabs are made across the board on topics ranging from race, colonisation and cultural appropriation, to disagreeing histories and biased narratives.
Colour-blindness oozes from a theatrical display of a '60s America and, sadly, today's world. Numerous jabs are made at problematic and present-day supremacist remarks as well as an ultimate unwillingness to wrestle with reality.This production, put on by director Jeremy Thomas-Poulsen, raises audience hairs in its breadth of sadistically staged humour. Cued lights and designated props…The band's exquisitely jazzy soul performance offer an irrevocable asset to the show. " (Cph Post 2017)
No Exit- Reloaded ⭐⭐⭐⭐
Directed by Jeremy Thomas-Poulsen World premier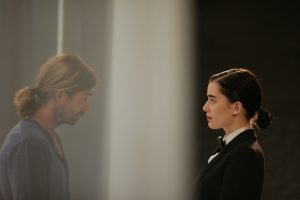 "A delicious performance shimmering with malevolence with overtones of Pinteresque menace. Astrid provides a real stage presence which is at turns diverting, humorous and formidable as she stalks the stage with her little laugh and bewitching presence."
– John Foster, playwright "No Exit- Reloaded" , BAFTA award-winner.KOP Kultur giver No Exit – Reloaded ★★★★ (4 stjerner) October 2, 2017                                                                                                                                                                        
Cph Post gives A Patriot's Guide to America ★★★★ (4 stars) Nov 2017
Anmeldelse: VENUS IN FUR i Huset February 9, 2017
CPH Post gives Venus in Fur ★★★★★★ (6 stars) February 9, 2017
Cph Post review of Elsie and Norm's Macbeth ★★★★★ (5 stars) May 18, 2016
(Photo credits above: Theresa Mangara & Vanessa Poole in "Vania and Sonia and Masha and Spike " (2018)  (Photos@Filip Orestes)