SCRAMBLED
The Life and Death of a Female Fantasy
PREMIER 3rd June 2021
HIT is excited to present this under-your-skin guest production and fantasy dance/ theatre cabaret from Israel, a one-woman performance as part of CPH STAGE International Days – HIT hits the Stage.
Playing in English from 3rd – 5th June.
On stage: Rotem Nachmany
Directed by Maya Bitan
CLICK HERE TO BOOK HIT TICKETS

A  performance about the life and death of a female fantasy and riveting, physical, one-woman show. An intimate, yet unsettling performance featuring one woman's journey to conceive, while dealing with her most dark and feminine sides.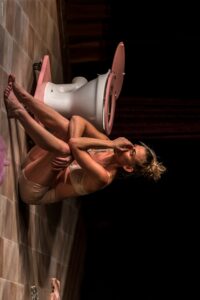 A reality embedded in the toilet that has become a small, private temple in an attempt to create life in the shadow of death. When deep in shit, poetry is revealed and when the stench is so present –  it becomes a fragrance in her Fantasy Cabaret.
ON STAGE:
Award-winning Israeli performer Rotem Nahmani trained in performance theatre, drama, dance, voice  and mask. She tours successfully internationally with her one-woman tour-de-force shows that are as intimate as they are bone-shaking. When not on stage, Rotem is a passionate drama teacher and theatre director.
(Venue: Literaturhaus)
PERFORMANCE TIMES:
Thursday 3 June   18:00 hrs
Friday 4 June        13:00 hrs
Saturday 5 June   15:30 hrs
Venue:
LITERATURHAUS
MØLLEGADE 7
2200 KØBENHAVN N
____________________________________

HIT's participation in CPH STAGE as HIT hits the Stage is graciously supported by the Aage og Johanne Louis-Hansens Fond.
____________________________________
SCRAMBLED is one of five HIT plays this spring being performed under CPH STAGE as a part of HIT's international festival – HIT hits the Stage.
_________________________________________________________________________
CREDITS:
On stage: Rotem Nachmany
Idea: Rotem Nachmany
Director: Maya Bitan
Dramaturg: Maayan Dobkovsky
Music & compsition: Johnny Tal
Lighting design: Paz Psherhofer
Conusltant: Idit Herman
Props: Shoko
Technicians Denmark: Karl Heding, Igor Halicki
Manager: Meir Bar-Giora
Producer Denmark: House of International Theatre
________________________________________________________________________
Health & Safety Covid-19
Performances will be held with the utmost concern for health and safety, following all current Danish state guidelines. The use of face masks by the audience is encouraged. Hand sanitisers will be provided. The audience is limited to the maximum capacity according to the health ministry's recommendations. Our HIT COVID-19 unforeseen lockdown money back guarantee policy ensures ticket holders the freedom of using their ticket to a later show or a full refund.