MEET CHRISTOFFER BERDAL, director of the riveting, powerful, gender-focused drama & lovestory Southern Bedfellows by Riley McCarthy, a world premiere HIT production being performed in English in Copenhagen from May 27th 2021 till 12th June.
TICKETS HERE
INTERVIEW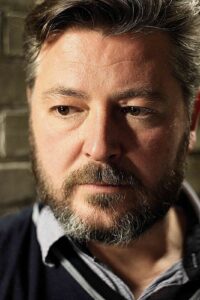 Christoffer Berdal, you are regularly described as "one of Denmark's most sought-after directors."
What normally makes you excited about a project and decide to take on a new work?

I choose a play when I really feel it has a relevance for society right now to an audience. Does it make sense for people to come and watch it?
The first time I read a script, I need images to leap into my mind and then there really has to be something I don't fully understand, that I just have to find out. Then I know I have to do this play. I have to experience something myself when I am doing any project, a journey of my own.
When I read Southern Bedfellows I immediately realized I had this feeling about Haywood and (Jo)Ellen, about their bodies and their voices on stage…  that there would be light and darkness, showing what is inside you and what is outside you…
2. What made you choose "Southern Bedfellows" as a piece?
Non-binary playwright McCarthy, has written a play about this "new" gender discussion and this discussion is important. When I discuss gender with friends and colleagues – the first thing that goes wrong is because people have conflicts – is gender a social construction or biology? We ask – are you a man? A woman? A third sex? It is a complicated discussion.
When we really experience the good and bad of the last 20 years – we experience how important language is to politics. It is really a tool. Our world has become so much more a social construction than a biological one, and with that come a lot of benefits and of course losers, but that is where we are now. So we really need to have this discussion on gender and that is why theatre is very important.
Theatre is actually one of those places where we can do this freely and safely, we can have these discussions without having to go out and face the consequences. We can do a play today and say "this is how we see it" And then tomorrow we can do a new play on the same topic that has an opposite point of view. It is very important to do this.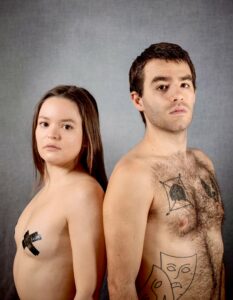 (Annelise Nielsen plays (Jo)Ellen & Jody Fish plays Haywood in Southern Bedfellows. PHOTO CREDIT: Benny Talbot)
How important is the LGBTQ+ theme in Southern Bedfellows to you personally?                                                                                           It is not my own story necessarily, but being a homosexual man and director in a heteronormative theatre and society, of course I have always had a larger focus on – what is gender? What does gender do? How do women act?  How do men act? Because I am a big guy in build, physically, when meeting people, I can choose to slightly tune up or tone down my homosexuality as an image, my image as being just "one of the guys" or not, and I sometimes use that. Which really is the only small knowledge and focus from personal experience of the gender-fluid topic that I bring to this play, since I have never personally questioned my own gender in the way the play does, no more at least than any teenager wondering "who am I?"                                                             It is a beautiful thing now that there is a language developing for considering what kind of gender to be. And this discussion is part of a bigger development that I can see has been growing in society during my lifetime, from when I was a teenager myself, to now being in my fifties.
I have had homosexual themes in productions before naturally. I have always been open as a director – in Much Ado About Nothing I made the Duke homosexual, maybe in love with Claudio. But what is more important for me is, on the one hand to have this discussion about gender identity, but also we have discovered that in the last 10 years, just in our neighbouring countries Russia, Poland, Romania, it is becoming very hard even to be homosexual at all.
So even if for me personally in Denmark and in my art too, it is quite easy to be a homosexual, this is a very important fight that we actually have to fight each day. Just because we are privileged in Denmark, this privilege can easily be taken away if we don't keep on fighting and keep focused. This struggle is an important part of society and personal freedom.
It is very important for me to do this production. We have to remember every fifth homosexual in Denmark still feels they cannot be open about being a homosexual at work.
This play Southern Bedfellows in the US is classed as drama, experimental, immersive, movement/physical. It is tagged as covering topics such as Toxic Masculinity, sexuality, LGBTQ, Non-Binary, gender fluid, religion, Transgender, coming out, drag. It is usually classed in the US as Age Appropriate from ages 18 and up. Here in Copenhagen it is being performed at Boessehuset.
What audience reaction are you hoping to achieve with Southern Bedfellows?

Well I think audiences will come see it from ages 13, 14 up, from the teens upwards, because it discusses something they are already discussing and concerned about and are already investigating. But Southern Bedfellows is not a youth theatre play. It is important grownups come and watch it too, so young and old all watch it together and see each others' reactions to it. So we get a discussion between the different generations, so we can learn from each other, because that is one of the main things – that we have to change structures.
It is common sense for a mother or father to wonder with a non-binary child – "Should I call you "they" now – why? but you are my daughter…?"
This is complicated stuff for both parent and child… though what is complicated for one, might not be complicated for another. I hope we will have a whole variety of people watching this play from teens up…
For me what is beautiful about this play and central to all this is the question of – what is it to be human? to be loved and be able to love yourself and be free, whatever you are. And I mean, this question is bigger than gender and sexuality and everything. I would say whoever you are, whoever sees this play, you hopefully recognize something in this struggle about finding out who am I, finding out – what kind of life would I actually like to live?
Of course, one has to have a discussion about who this play is relevant to, but I think it is almost more important straight, heteronormative people come see this play, because since they meet this gender discussion anyway, say in the newspapers – this play will give another point of view. The play functions almost like an essay or a discussion headline – about 2 humans just being. It is a totally different perspective on the problem around gender.
This play raises the discussion that all of us need to be considered, whether you can relate to someone or something or not or even understand it or not, because this is part of our society, so it should concern all of us. Everyone must be included, like the fisherman in North Jutland we watch on the news and how many fish they catch – we may not all be fisherman in Jutland ourselves, but we all have to be concerned that their life is a good one too.
The 2 actors in "Southern Bedfellows" are described by the playwright in the casting notes as follows: (Jo) Ellen is non-binary, any ethnicity, Haywood as Male or male-identifying, Nonbinary, gender fluid.
How relevant is casting when you choose a play?                  Casting is very important. I think for me the text is the centre of the whole world in a play. The playwright has given the play a structure in what they have written and I think you have to start there. Sometimes as director you have to change a thing or do something totally different, but I think you should be concerned with what it is the playwright is actually trying to achieve, with making the play.For me it was important that HIT already had a focus on LGBTQ+ this season and I thought it was important we try to reach out to see if we could find nonbinary actors, and we were very lucky to find very good actors too, for Southern Bedfellows.                                                                                                                                                  (Southern Bedfellows actors Jody Fish & Annelise Nielsen PHOTO CREDIT: Benny Talbot)
Relevant casting is a very important discussion and we have to give it focus, because a big part of the disclosure which happens, and it is the same with discussions about race or whatever, is that we who are privileged – we do not understand the need for representation. This is a new lesson we have to learn and a new field. For me it is important. It is not up to us to decide, we have to be open to this discussion.
We need actors who can relate to and have some experience of the topic, so we can do it justice and present it in a way that is meaningful. As artists we live by using our imagination, but it is somebody else's reality and you have to be careful to respect that, when you do things like this.
6. Is there a difference to you between directing in English and in Danish? Will English this make any difference to the way you work?
English is a richer language, has a lot more words for different things, so the English-language text will make a difference. It will not change my directing methods, but the topics covered in the text are part of how the direction will be.This play really has, and is based on, an American context. The characters and the conflicts they are struggling with can be found in Denmark, but the context and story is American. Each language has its own energy and a rhythm of its own. Even an actor playing the same part in Danish and English would be different in English, even if they are doing the same things with the text.
What is also interesting and what I am looking forward to, is of course that these actors have an American background and so naturally this will reflect from that point of view on what I say as director. So that will take it all into another place… and we don't know for sure but probably, the fact they are doing the play in English, will take me as director more in an American direction, than if they were doing it in Danish.
As American actors, Annelise Nielsen and Jody Fish come from another acting tradition, much more based on working with the camera, with an inner life and creating a character in isolation. For me when you are in the theatre, the drama is between two characters. It is not like you look first at one character on stage and then the other. You look at what is actually going on between That is why you can see the story as an audience. And that is often another kind of approach compared to the American actor training tradition…
I enjoy the fact that when I work with American actors, it inspires them. One actor has to do or give, what the other actor has to react to. The actor does not just provide it on their own and American film-trained actors are not always trained this way.I am really looking forward to this meeting between the Danish & the American. Even at the first readthrough of Southern Bedfellows I was very happy to see such a connection and energy between our actors Jody and Annelise.
7. The American playwright of Southern Bedfellows is young, contemporary Riley McCarthy, a screenwriter and actor as well as playwright, who identifies in real life as non-binary and uses they/them as a pronoun when self-referencing. McCarthy specifically states an artistic intention on the playwright's own website to do work which can "explore the definition of gender."
How important is the playwright to your version of "Southern Bedfellows" being performed in Copenhagen?

We are doing their play and we need to service that, but it will have another approach than if the playwright were directing the play themselves. That is the destiny of any play… what are these boxes and how can we get out of them… I have the same discussions now when I am rehearsing Strindberg's Miss Julie this spring– what is a man? What is woman? And how do I get out of that? It is a privilege to go from rehearsing Miss Julie in Hjørring to Southern Bedfellows and carry on this investigation…
I love Fassbender the playwright and filmmaker for example… like his work which can be set on the moon, say – this play is a construction or a fantasy but it is a reality anyway, it is set in Alabama but the Alabama location is just a framework. This is also a play about Denmark.
Christoffer Berdal, you have had great success in Denmark's largest and most successful theatres. You direct plays in all genres, from classics to musicals to notable new Danish and international dramas.
How would you describe your voice as a director?
Having directed more than 80 plays, which is amazing and I am so fortunate, what is perhaps more interesting and important to me personally, is the audience – that every production communicates with, connects to, and becomes relevant to its audience and to their lives.
In the theatre, a play is something we should be able to reflect on, discuss, get inspired by or dream of. It shows us a glimpse of different kinds of lives and scenarios that we don't normally need to deal with in reality once we leave the theatre or have to face the consequences of in real life, necessarily. For me the important thing is – where does a production meet the audience and meet the society it is made in?
I am also happy that I have succeeded at times in making very classical work very relevant. To take say Shakespeare, or the Danish classic Holberg,  – we did comedy open air at Groennegaards Teatret, The Man who Can't Find Time/ Den Stundesløse written in 1726 –-  and make it into something in 2009 that a modern audience can relate to… that makes me happy. After Den Stundesløse, people come up to the actors at the bar and said repeatedly how real the play was for them… "you are just like my boss", "I feel the same about my daughter"…¨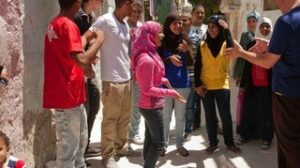 (Photo of Iraqi refugees in Jordan, 2010 being directed by Christoffer Berdal PHOTO CREDIT:  Kristeligt Dagblad)
I think it is amazing that I have been able to work in so many different genres. I have been so fortunate to work for example in Palestine with refugees and their culture, so that I have been able to make people express themselves when they previously have not had a voice… like the play "Who Are we?"  which I cast in the enormous refugee camp Zarqa, outside the capital Amman in the Middle East. I worked with a young cast of refugees and their own stories, thoughts and dreams and the aim was to tour refugee camps all across Jordan.
And again it was a privilege to give a voice to HIV positive people in Malawi, doing theatre with them about the importance of protection. The contrast then after these projects I am so immensely proud of, was to come back to Copenhagen and do Ibsen at the Royal theatre after that. One type of work absolutely inspires the other and the experience develops my skills as a director.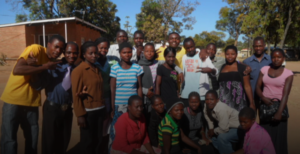 Mzimba district Malawi (Photo credit CONTACT httpswww.contact.dkint-productionyouths-right-to-health)
I think especially in Denmark we sometimes see theatre either as political or commercial, but I think everything is political. It is easy for me to work in different genres and texts because for me there is always a play whether it is contemporary or Shakespeare or Noel Coward or Southern Bedfellows… It is about context.
What or who would you say have been important influences on your voice and development as a director, to get to where you are today? What is your inspiration?
I think inspiration started when I was 4, watching old fashioned Vaudeville with song n dance, at The Royal Danish Theatre's Old Stage. We were given tickets by someone my parents knew – my parents were not artistic people at all, they are social workers. And I watched this play I thought was fantastic. And though I didn't even know there was such a job as being a theatre director then, aged 4, I knew straight away, "this is what I am going to be".
I was always this strange little kid who loved and went to the theatre all my childhood. From when I first learned to read, I have always been fascinated how theatre has developed from the classical age through Shakespeare, Moliere through history from naturalism to realism…. I find that exciting. Especially in my teens and of course at Drama School, I was inspired by Ib Thorup, unfortunately he died of aids at 42, then there was Søren Iversen at that time and Klaus Hoffmeyer.
I am impressed by contemporary international theatre makers – Theatre Complicité, Cheek by Jowl Theatre…I love their work.
I still really enjoy going to the theatre but today perhaps the art scene is where I also get a lot of inspiration. I see a great deal of art, for example at the Venice Biennale, because as an audience member and human being, artworks can really touch me, without me having to think about my profession. If I am in the theatre, I can't help being distracted by thoughts like "Ah, that's interesting how they did it that way on stage…"
We should be better in Copenhagen at discussing and sharing our work from productions in the theatre, what works and what doesn't. We all benefit as artists from that, it is more important than competing against each other, more than the business of theatre – in the long run what works for one production is good for every one of us. It should be about developing, starting a dialogue and about what works best.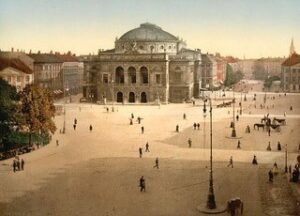 (Danish Royal Theatre)
I have read the play "Southern Bedfellows". It is fantastic. Explosive, sweet, sensitive and startling. What would you like readers of "Southern Bedfellows" to know about it?

A very important question is – how do we develop and how do we secure that we are a society where there is a possibility to have a variety of gender and you can be free to be whoever you are.
This is a new and modern discussion about gender and sexuality about and for all kinds of people. Everyone will be confronted by these topics at some point – someone they talk to at the supermarket, at work or wherever – in the same way we have had previous discussions in society about being allowed to wear a headscarf or not, or makeup or not, it is about becoming a free human being, which is essential for everybody. In that sense I think everybody somehow will be touched by this struggle in the play and be able to identify.                                                                                 I think everybody has experienced there is a part of me I am not secure about sharing with friends, family lovers or whoever – so I think the feelings behind the issues in this play, are actually very common. Because of the Haywoods in society,  we as a society need to embrace and support it, because there are a lot of Haywoods and there are a lot of people  – and there is still a long way to go…"
Thank you Christoffer Berdal.
_________________________________________________________________________
Interview by Dina Rosenmeier.
Question research by Vanessa Poole & Dina Rosenmeier.
February 2021
@ HIT https://www.houseofinternationaltheatre.dk/
Southern Bedfellows is one of five HIT plays this spring being performed under CPH STAGE as a part of HIT's international festival – HIT hits the Stage.
Southern Bedfellows is playing in English from 27th May till 12th June 2021 at Bøssehuset, Christiania, Copenhagen.
For more info on the performances:
https://www.houseofinternationaltheatre.dk/southern-bedfellows-2/
CLICK HERE TO BOOK TICKETS
On stage: Jody Fish, Annelise Nielsen
_____________________________________________________________________
HIT's production of Southern Bedfellows is supported by Københavns Scenekunstudvalg.
_______________________________

HIT's participation in CPH STAGE as HIT Hits the Stage is graciously supported by the Aage og Johanne Louis-Hansens Fond.
________________________________
CHRISTIANSHAVNS
LOKALUDVALG
HIT's production of Southern Bedfellows is supported by Christianshavns Lokaludvalg
_________________________________________________________________________