When:
April 29, 2019 @ 8:00 pm – 10:00 pm
2019-04-29T20:00:00+02:00
2019-04-29T22:00:00+02:00
Where:
LiteraturHaus
Møllegade 7 DK-2200 København N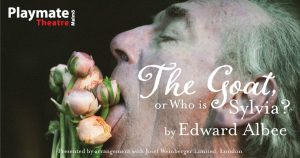 What happens when infidelity strips a marriage bare?
From the author of "Who's Afraid of Virginia Woolf?" and "The Zoo Story" this powerful, provocative and surprisingly funny tragicomedy, with an all-British cast. "You try to tell them; you try to be honest. What do they do? They laugh at you," / Martin, successful architect, happily-married husband, father and animal enthusiast… Can a marriage just … vanish? He's been her everything for decades.
"The Goat, or Who is Sylvia?" by Edward Albee, one of the twentieth century's greatest playwrights, is a play that challenges its audience as much as its characters. Winner of the 2002 Tony Award for Best Play, Drama Desk Award for Outstanding Play and the Pulitzer Prize for Drama. Husband and wife grapple across the ruins of a marriage. How do you rebuild a family after the unthinkable happens?
A Broadway and West End hit, this is Playmate Theatre Malmö's second production of the 2018/19 season and three-time Pulitzer Prize winner Albee's most startling and darkly comical drama. Recently remounted in London it starred Damian Lewis– an actor who, like Martin the architect, is a master at playing secret lives.
A witty play about love, loss, family and testing the limits of tolerance, "If you've never seen this play before, and you're courageous, you won't regret your experience."
Directed by Boel Marie Larsson
CAST:
David Barrett – Ross
Kevin Benn – Martin
Jeff Bond – Billy
Vanessa Poole – Stevie
FOR MATURE AUDIENCES ONLY
By arrangement with Josef Weinberger Limited, London.