Art vs Extinction
A guest production & live stream performance piece from Australia, by one of the world gurus of live performance theatre, Moira Finucane.
https://www.finucaneandsmith.com/
World famous, multi-awarded gothic glamazon, environmental scientist and burlesque genre-smasher Moira Finucane, streams  live from the depths of her bathtub, to us, her audience in Copenhagen.
Moira sells out stadiums worldwide with her unique brand of performance theatre and we are privileged to get the chance to immerse in her solo work here in Denmark.
See more about this phenomeneon of performance here:
https://www.finucaneandsmith.com/the-rapture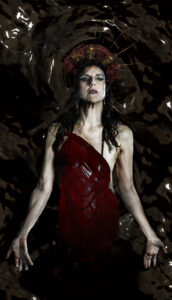 Created in lockdown, and now being performed for HIT's audience, this Art vs Extinction intimate epic lures you into a Livestream Interactive Dream of hope, extinction, liquor, propaganda and Antarctic ice.
Commissioned by Mesto Zensk (Slovenia), Climakaze Festival (Miami), winner of Climakaze Award for outstanding work on climate justice – this spectacular, intimate piece – like of all Moira's global work about the drama of fearsome climate change  – leaves noone untouched.
(Venue: Literaturhaus)
Audiences & critics across 5 continents call Finucane 'transcendent', 'exquisite', 'sumptuous' & 'volcanic'. Now Finucane sets fire to her legendary variety oeuvre, reincarnating herself as a transformer, a snake always shedding her skin; writhing through a visual feast of prophecy, Gothic dreams, birds of prey, soaring wings and apocalyptic fairy tales.
Couturiers, composers, jewellers, sculptors, painters, performers, singers & faux-furriers. This is preposterous talent in a party on the edge of the abyss.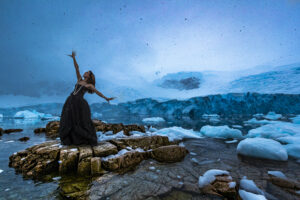 Climate Justice & Antarctic Ice
PERFORMANCE TIMES:
Thursday 3 June   11:00 hrs
Friday 4 June        11:00 hrs
Saturday 5 June   11:00 hrs
Venue:
LITERATURHAUS
MØLLEGADE 7
2200 KØBENHAVN N
Reviews
​"Moira Finucane's gothic appropriation of a Catholic Mass, is a surreal and spectacular series of monologues, most of them addressing issues of climate change, feminism, and surprisingly, given the shape of the vehicle, only a little of religion. The high priest(ess)-creator is a role she's made for herself, and she takes it with all the confidence you'd expect of one of Melbourne's most iconic performers. The action is delivered with an intensity that shifts at times between the charming and the vicious, the histrionic and the droll, the pathetic and the passionate."
DAILY REVIEW, AUSTRALIA​
"Directors Moira Finucane and Jackie Smith understand better than most how to set the mood for a show. Their fingerprints are all over the theatre from the outset; the lights are low, the air is hazy and there's a slightly shabby, mysterious atmosphere, with sculptures hanging like stalactites from ornate chandeliers……….Embracing complexity in performance – through dialogue, costume, characterisation and theme – is the reason The Rapture is difficult to pin down. These are the same reasons the work is so interesting and what makes Finucane such an engaging artist.
SYDNEY MORNING HERALD
_______________________________________

The Rapture is brought to Denmark with the gracious support of Willam Demant Fonden.
_______________________________________

HIT's participation in CPH STAGE as HIT hits the Stage is graciously supported by the Aage og Johanne Louis-Hansens Fond.
_______________________________________
THE RAPTURE is one of five HIT plays this spring being performed under CPH STAGE as a part of HIT's international festival – HIT hits the Stage.
_________________________________________________________________________
CREDITS:
Performers: Moira Finucane, Rachel Lewindon
Director: Moira Finucane
Co-director: Jackie Smith
Designers: Keon Couture, William Eicholtz, Gun Shy, Bryn Meredith, Isaac Lummis, Jennifer Hector, Eugyeene Teh
Lighting design: Rachel Lewindon, Shinjuku Thief
Producer: Kath Papas
Technicians Denmark: Karl Heding, Igor Halicki
Playwright: Moira Finucane
Composer: Rachel Lewindon
Producer Denmark: House of International Theatre